For commercial buildings and coolrooms, Panel Sell is able to supply insulated panels quickly and in large quantities.
Insulated wall panels are essentially two profiled metal sheets with an insulated material in between.
Types of insulated wall panels
​Technical details of insulated wall panels
Standardly, the outer sheets are made from steel. However, for special purposes, stainless steel or aluminium can be incorporated. The standard sheet thicknesses range between 0.5mm to 1.0mm. Therefore, it can be produced in other strengths as required. The wall panels commonly have the Eurobox-marked profile on the sheet. However, smooth and micro-ribbed surface finishes are also possible.
The standard core insulation of these composite wall panels is rigid polyuerethane foam (PU/PUR). Increasingly more popular are panels with a core insulation consisting of rockwool or polyisocyanurate foam (PIR) due to fire-protection requirements. The panels have fire-rating classes and consits of non-combustible materials.
The wall panels are assembled together in what is known as a "tongue and groove" system. The panel attachment can come as open or secret fixing. In open-fixing panels, screws that are mounted are visible, whereas secret-fixing joints conceal the screws when mounted.
On request, we can offer the full range of insulated wall panels, manufactured and tailored to your requirements in length, thickness and most RAL-colour tones. Of course, we are also able to offer you special offers and surplus stock at low prices.
Profiles
As a stabilising element, the outer and inner shell of the wall panels usually have a so-called profile. You can have all wall panels produced with the following profiles: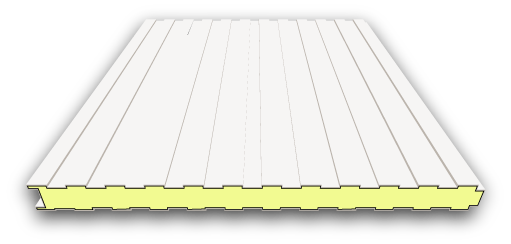 The default profile is called Eurobox. It is the classic profile used for industrial buildings and is mostly used in a white-grey color (RAL 9002).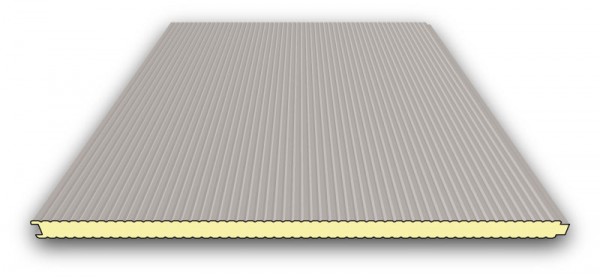 Wall panels with a micro-rib profile feature a slight corrugation of the surface. This gives the panel, and thus the entire building, a noble look.
A very special profile in our range is the double-lamination. This combines a micro-lamination with a larger corrugation. When combining different colors, industrial buildings in particular can be given a unique and appealing appearance.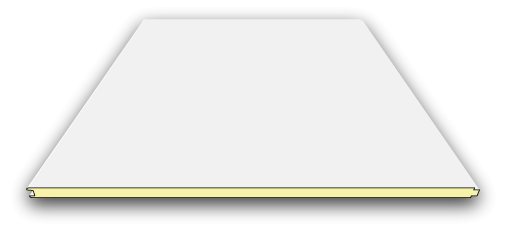 There is also the possibility to produce sandwich wall panels without a profile, i.e. "plain". Please note that the thickness of the sheet must be greater than that of the profiled panels in order to ensure the same stability.