With our cold room and chiller room panels, you can efficiently insulate your cold room or freezer. The insulation thicknesses of up to 200mm contribute to saving energy costs. We can deliver your cold room panels UK-wide from our UK-based yard.
Our cold room panels
Cold rooms – save energy through quality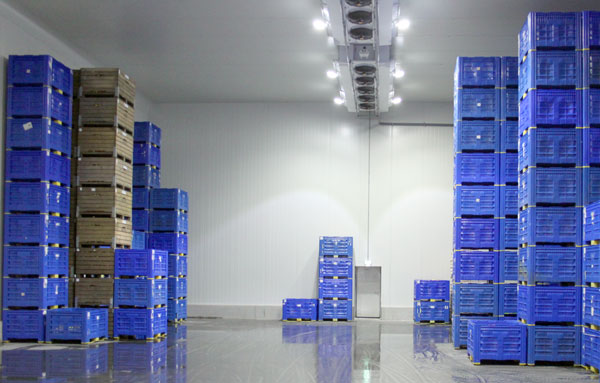 Source: Kopiersperre (Eigenes Werk) [CC BY-SA 3.0], via Wikimedia Commons
Cold room panels have to fulfill very special requirements: Primarily, the panels should have good insulation properties in order to minimise the amount of energy required for cooling. The excellent insulation values of our cold room panels are built on the following three pillars:
We use high-insulation polyurethane insulation foam
Our cold room panels have a high-quality dry joint, which minimises heat loss at the joints of the panels.
We offer cold room panels with particularly high insulation thicknesses of up to 200mm
Open food items are frequently stored in cold rooms. In this case, the surface of the cold room panels must be food safe. That is, made either of stainless steel, or the surface of the cold room panels are coated with a food safe material. Since insulated panels made from stainless steel are rarely requested, we can only produce these for minimum orders of 2,500 m².
With us, you can order the food safe insulated panels from 300m², with lengths up to 14m, insulation thicknesses up to 200mm in all RAL colours and with a variety of profiles. For a dedicated production run, we have a lead-time of up to 3 weeks from the date of the order being placed.